Ok, its been a minute since we finished up our Yali's cafe projects and I haven't had a chance to share the whole reveal - but better late than never, so let's get to it! For those of you who haven't been following along, we've been working over the past year with our friends at Yali's who operate a chain of family owned cafes in Berkeley, CA, and we specifically helped with two cafes located on the UC Berkeley campus. Fun fact: this project came along from a close friend whom I worked with at TOMS so it was a no brainer taking this project on, and also because it happened to be one of my favorite kinds of projects, cafe design! I'll do anything for coffee.
First, let's travel way back to June 2017 when we kicked off the project. Previously I've shared the branding process for Yali's (for a refresher check it out here) and needless to say the creative direction for the brand played a big part of the interior design process. The goal was to bring a decidedly minimal and modern approach to the space, a space which was previously a Peet's Coffee outpost complete with wood panelling, granite counters etc. (insert frowny face here). The owners have a deep love for all things coffee and wanted to reinvent their cafe aesthetic within the tone of other third wave coffee brands, but without taking themselves too seriously. #fourthwavecoffee (trademark pending) So in building the palette, we were inspired by natural, utilitarian materials which made for a neutral and quiet backdrop backdrop for college life.
Inspiration: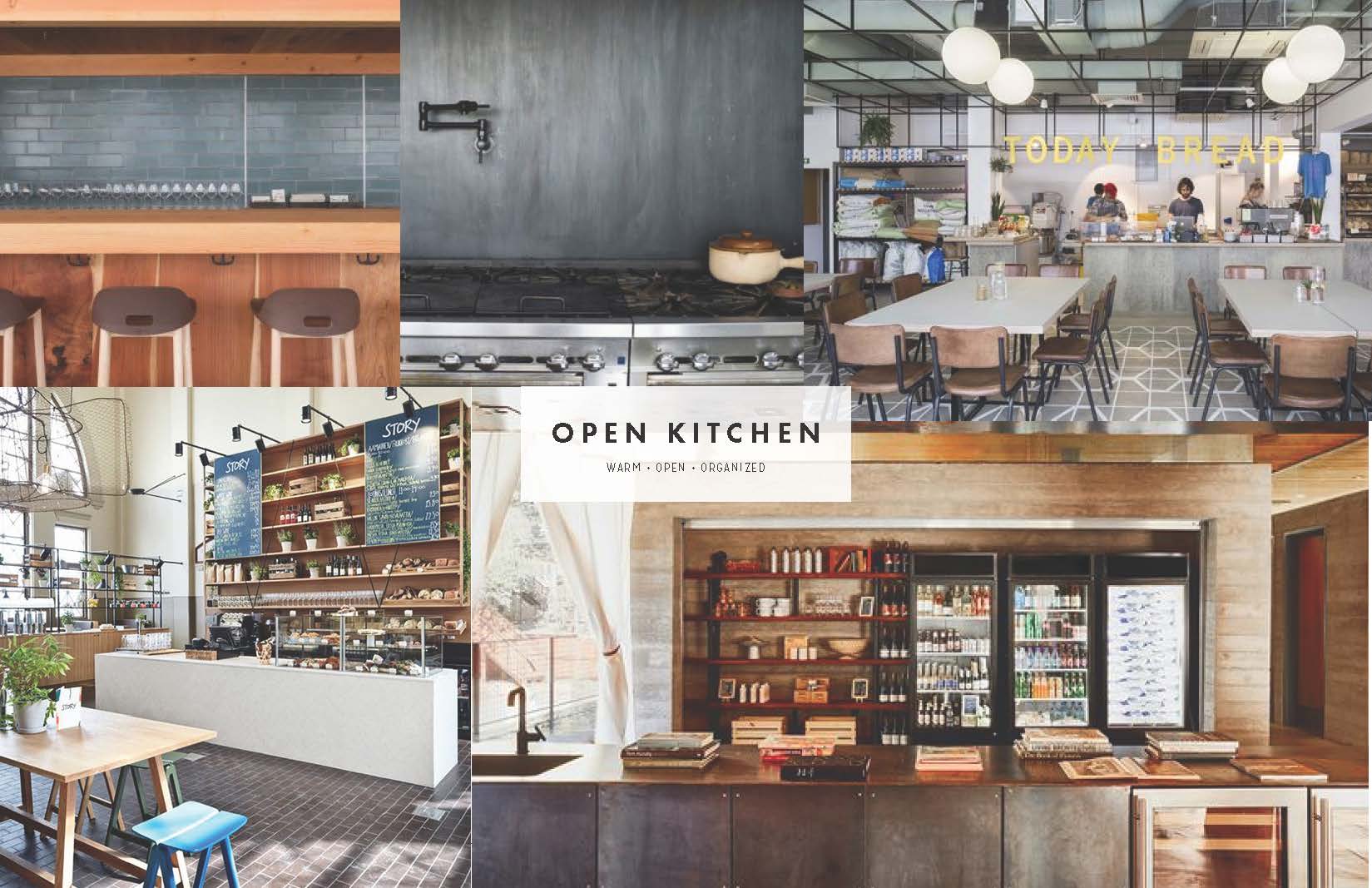 In terms of the cafe layout, we had a LOT of space to play with, so I focused on creating distinct seating arrangements to keep things fresh for repeat visitors, as well as offer various seating opportunities for individuals and both large and small groups. I also tried to utilize all the little nooks and crannies to break things up and help create a nice flow through the cafe, being mindful of where the queue would build up during rush hours.
The kitchen layout was another challenge altogether as it had to accommodate a wide variety of food preparation areas, on top of coffee preparation, smoothie preparation and dry+cold cases at the front of the bar. I leaned on the owners a lot for this part and we must have gone through at least 15-20 different layouts until we nailed it. This is why I love these clients so much - they had so much patience through the whole design process and great communication skills, which really made the everything run smoothly, as opposed to being a hot mess. Bravo! And a huge shout out to Skiffmade for doing an amazing job realizing these designs, as well as being excellent collaborators. For those of you who enjoy floor plans and elevations, (me!) here is the design plan.
Layout:
I love sharing the design process because, we'll I'm a process nerd and love talking shop. But in the end its all about those pretty pictures! I was recently able to get up to Berkeley and take photos, so here's the final product, enjoy! Side note - a few items are still in the works, namely updating the ceiling and adding new lighting throughout. But the space still feels so nice! Stay tuned for a post about the second Yali's location we worked on, complete with before and afters. xoxo -jojo