We're starting to get in the holiday spirit over here! With the time change bringing us indoors earlier and the cold air making us cozy up inside, our creative juices start flowing as we ready our homes for family, friends and holiday festivities. We've undertaken a few little house sprucing projects in preparation, so now its time to get to the real fun stuff - decorating! I always tend to take inspiration from natural materials, colors and textures as opposed to flashy, bright, artificial materials seen in typical holiday decorations. I usually opt for a simple, hand made take on decor that blends better with the existing decor in our home. And since winter in LA basically just looks like fall, I like to play with neutrals that relate back to the views outside. So without further ado - here is my mood board for this holiday season:
twilight time:
I was inspired by colors typically seen at dusk - blues, purples and blush, along with colors seen in foliage around this time of year - specifically in the dry southern California and desert landscape. Aesthetically I am always drawn to simple, raw, utilitarian materials and love pairing them with wild, natural textures.
In case you're digging this holiday vibe as much as I am, I put together some little boards to help you create the look in your home!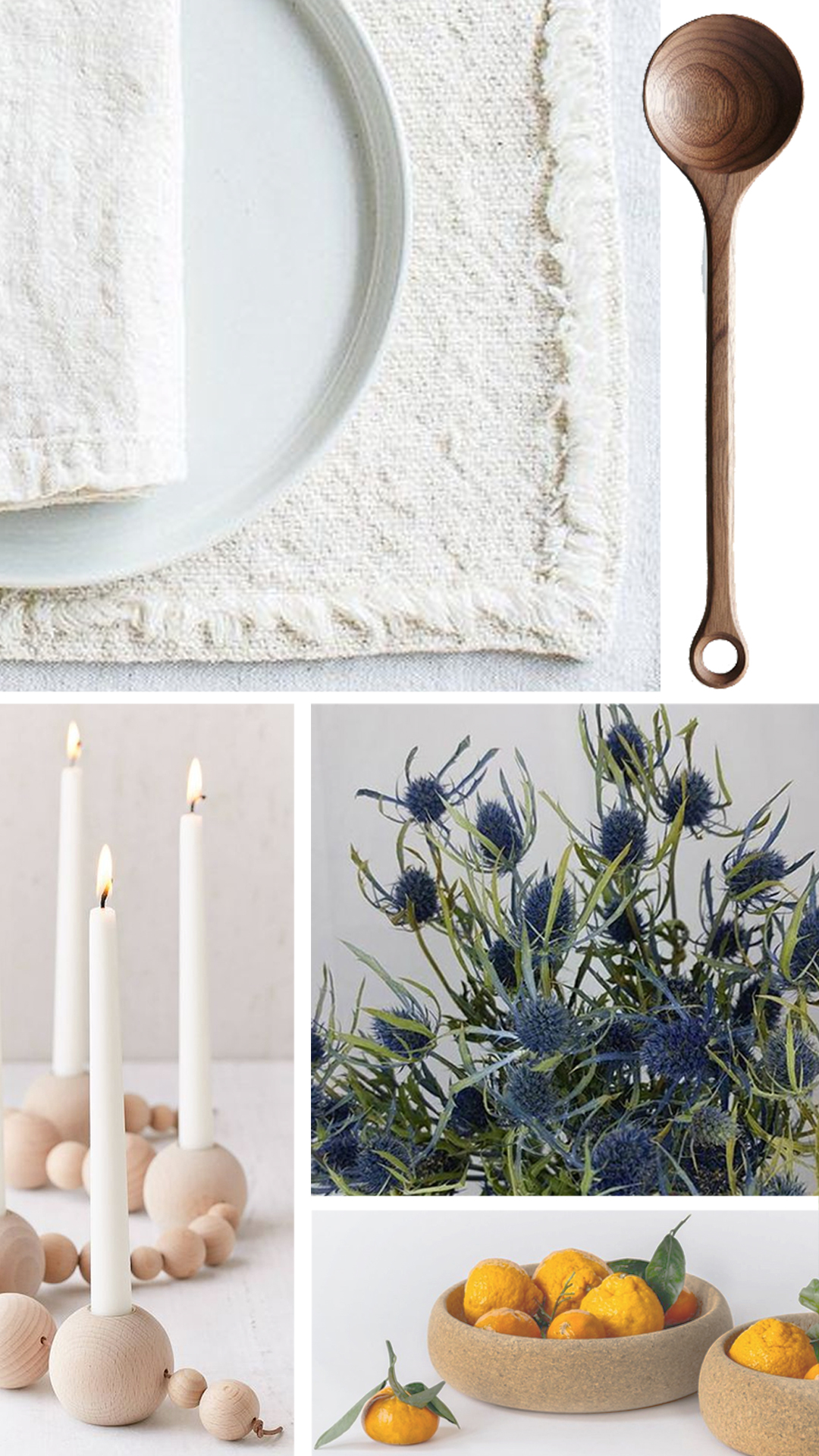 Create a neutral base with natural linen tablecloth, placemats or runner, layer with wooden candle holders, mix and match with darker wood tones or cork for serving ware. Pops of green and blue in dried thistle evoke twilight hues.
play with neutral colors, texture and light for a warm cozy feel. white felted stockings and wood and tassel garlands tie back to the table decor. drape oversized lights from the mantle - and if you don't have a functioning fireplace, put them in there over the top of dried branches. add a dried thistle or pussy willow wreath above the mantle to top it off.
do yourself a favor and get a noble fir - the silvery blue green color is lovely and plays well with neutrals. and his nice negative space for ornaments. keep lights white and plentiful - add strands of wooden bead garland, wool pom poms or felted ball garlands would be nice as well. add in some diy hand painted wooden ornaments in blue, periwinkle, gold, black and white in simple patterns to add some whimsy.
I hope this helped you get inspired to decorate your home for the holidays! Below are some links to some of the items referenced in the boards - let me know if there is anything I missed, I am always happy to share links. We wish you all a happy and safe holiday! Cheers! (you deserve it)
xo, jojo
Table:
The placement is out of stock but here is a fringed napkin that could work - you can't go wrong with anything form Spartan Shop. Also these quilted placements are fun alternative. The black walnut spoon is from Food 52. Cork bowls are from a great Etsy vendor Melanie Abrantes, based in Oakland CA. Urban Outfitters doesn't sell the wood bead candle holder anymore, but they make this candleholder thats nice - and you can always get the OG version by Ferm living. Dried thistle can be found here.
Mantle:
Oversized lights from Ikea, or you can do these really delicate copper wire lights that are pretty magical around a wreath. This all white felt stocking is only $12 at West Elm right now - go buy them! They are such a nice neutral base to layer some felt details to, or tassels/pom poms. Wooden bead + tassel garlands can be found here - or you can DIY them. Dried cholla wood branches can be found here.
Tree:
Wood bead + felt ball garland can be found here. If you want all felt garland it here. And pom pom garlands can be found here. And here is a DIY guide on how to make the hand painted wooden ornaments.